Artist in Residence
~
Workshops
~
Classes
Performance Anxiety can affect anyone at any level of ability. I am happy to work with your group of artists to help them find the best way to let their light shine. We have had success with programs for fine arts departments, choirs, schools, libraries and club meetings. I have programs already developed, but also enjoy working with you and your curriculum to develop a program to enhance your students/members' experience.
In addition to helping students of all ages co-create tools to overcome performance anxiety, I also teach a wide range of music, theatre, and drama classes.

Classes in the past have included:
•Contributing Your Best Voice to Your Choir
•Your Body is Your Instrument
•FUNdamentals of Theatre
•Musical Theatre Scenes & Songs
•Musical Theatre-Auditioning
•Performing Arts Camp Acting Specialist
•Creative Dramatic Play
•Rehearsal Preparation
•Theatre Games

I also teach group voice lessons in my private studio. If you are interested in splitting the lesson with friends, my maximum group size is four people. For everyone to benefit equally all participants should be at approximately the same level of experience.

"Hannah very much enjoyed Creative Dramatic Play and the teacher. She has taken quite a few classes and has never raved about a teacher like she does about Amber Nicole."


"Amber Nicole was a great instructor. My daughter took her Musical Theatre class 4-5 times, she always wanted to come back. Amber Nicole made it fun!"


"My daughter really liked the Musical Theatre class! I think it was well run. The play they did in the last class was well directed by the instructor. Overall, it was a good experience for my daughter!"


You are welcome to contact me via email: a@ambernicoledilger.com.
---

"People learn best when they're active, when they're engaged rather than distracted, when it's socially interactive, and when it's joyful."
- Dr. Kathy Hirsh-Pasek, senior fellow at the Brookings Institution


---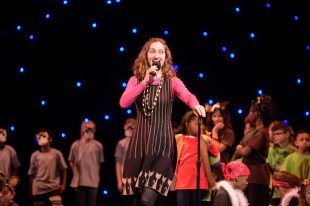 Teaching Artist for
Disney Musicals in Schools
---
"Whether she is singing for my Musicales concert series, presenting a voice workshop for my choirs, or teaching an eager student, Amber Nicole Dilger has always impressed me with her skill and dedication. But what sets her apart from the many fine musicians with whom I work is her indefatigable joy."

testimonial from Dan Broner
Music Director
First Unitarian Society of Madison, Wisconsin
---
"Play is not a specific activity, it's an approach to learning, an engaged, fun, curious way of discovering your world"- Catherine Tamis-LeMonda, Professor of Applied Psychology at New York University


---